Phi Phi Islands - Paradise Lost
At December 26, 2004 disaster struck. Tsunami-waves triggered by a massive 9.0 undersea earthquake close to Sumatra devasteted the island, took 2000 human lifes there and about 280 000 in the region.


The first tsunami-wave rushing through Lodulum-bay towards Tonsai-Village.
© Prof.Louis Evans, Curtin University, Western Australia/Gaultine 111

This page is dedicated to Michiyo Omata and La Aphichart Lanlongsa who saved dozends of lives at Phi Phi Pardise Pearl Resort. Michiyo, La's wife who was born and grown up in Japan, recognized the signs of the approaching Tsunami-wave - a unusual receding of the sea. Within about two minutes, just before the first tidal-wave struck, Michiyo and La managed to alarm all guests and staff to run to higher grounds immediately. No one there has been hurted seriously.


in appreciation of the white sandy beaches - bizarre lime-stone cliffs and adventurous caves - orchids and palmtrees - dragons and flying snakes - Kingfishers and Plumerias - in memory of our holidays in paradise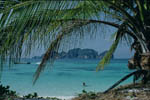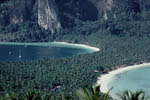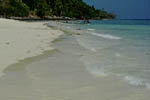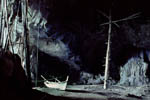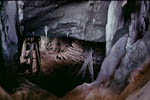 photos by Thomas Gramanitsch
Viewing this photogallery is best done by clicking first on the top image or the heading. The next image will be shown by clicking on the image just viewed. This will navigate through the whole gallery like viewing a slide-show.


created: 17.12.2000 - updated: 26.1.2005 - some changes: 21.3.2016 - minor changes : 25.1.2022 - (c) Th.Gramanitsch