Wild growing orchids of Vienna and surrounding countryside


One would hardly believe that all the 38 species of wild growing orchids on this page where found inside the border of Vienna or at a maximum distance of 20 km of it.

Some of them occur more frequently - thousands of Bug orchids might grow at one meadow - while others are extremely rare like the Monkey orchid, where only one single plant might grow in the wilderness in Austria.
Some species can be spotted easyly like the Lady's Slipper orchid while others are difficult to find because they are very tiny and/or camouflaged like the Frog orchid. But everybody who stroll around Viennas meadows, forrests or hills should be encouraged to keep his eyes open. There is a good chance to find very beautiful wild growing orchids.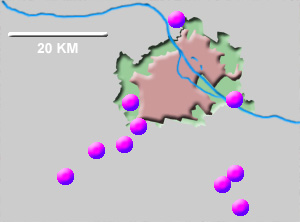 To protect this very endangerd plants their exact locations will not be revealed.
If you are lucky and find any wildgrowing orchid: PLEASE DO NOT TOUCH THE PLANTS !

I am very grateful to Diethelm Jobstmann and Horst Krasser who introduced me to the hobby of photographing wild growing orchids.
Without their help it would have been impossible for me to find most of this plants, take pictures and create this page.
Very special thanks to Reinhard Böhm-Raffay for guiding me to very rare orchids, albino forms and hybrids
and to Norbert Novak for substantial help to find out, what kind of species exists in this area.
Many thanks to Karl Watzer and Brigitte Rieser for their hints on orchid sites and to Brian Allen for providing help on english taxonomy.

THIS WEBSITE IS UNDER CONSTRUCTION - TO ACCESS THE NEW "ORCHID"-PAGES PLEASE NAVIGATE TO THE NEW "ORCHID-LIST"
[ ORCHID-LIST ]
WHILE THE NEW "VIENNA-ORCHID"-WEBSITE IS UNDER CONSTRUCTION, THE OLDER VERSION IS STILL AVAILABLE AT
[ WILD GROWING ORCHIDS OF VIENNA AND SURROUNDING COUNTRYSIDE - Version 2000-2002 ]




[ Österreichisches Orchideenschutz Netzwerk - 15 Orchids of the Wienerwald (german) ]

[ AUSTRIAN ORCHID PROTECTION NETWORK ]



© photos by Thomas Gramanitsch
created: 23.9.2000 - updated: 22.1.2006 - external links updated : 29.1.2022 - minor changes : 11.2.2023 - © Th.Gramanitsch